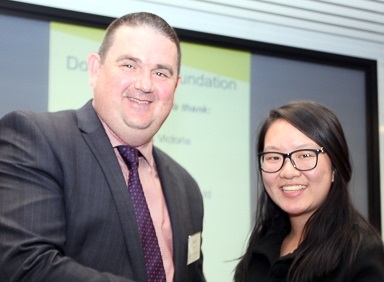 In the first half of 2015 we have witnessed many great achievements across the organisation. We saw the reintroduction of Summer Camps in Malmsbury, conducted the inaugural intake of University Pathways Program (UPP) participants, celebrated the graduation and induction of our talented cadets like Hang Deng (left), as well as held the tenth annual Doxa Racing Lunch.
We have had an incredibly successful start to the year, all of which couldn't have been achieved without the assistance of you, our generous supporters. You are an integral part of the opportunities and assistance we provide to so many young people, none more so than Doxa Cadet Melina Nheng who spoke at our Racing Lunch. Melina's inspiring story provided a firsthand insight to the achievements made by young people who wouldn't be afforded the opportunity without your kind support, so thank you.
We would also like to extend a special thank you to Peter Maher, Max Williams and the entire Doxa Social Club team for their continued generosity. The rest of the year is looking very bright and we encourage you to join us on this exciting journey. With your support, our invaluable work can continue to truly make a difference in the lives of children and young people.
Social Share