overview
During the school breaks, we run holiday camps in both the city and at our bushland camp in Malmsbury. We are all about our campers having fun and learning while creating unforgettable memories. Our holiday camps are for children from 10 to 12 years old and in early 2023, priority access will be given to children with Positive Start support.
We develop new programmes for our holiday camps each year so that they stay fresh and appealing. Our City Camps focus on fun things to do in and around Melbourne while our Malmsbury Camps offer opportunities to have exciting adventures in the bush.
HOLIDAY CAMPS DATES
Dates for both our Malmsbury and City Camp
January 9 to January 13
5 days and 4 overnights
January 16 to January 20
5 days and 4 overnights
April 11 to April 14
4 days and 3 overnights
April 17 to April 21
5 days and 4 overnights
TRANSPORT
We provide bus transport to and from our camps from Southern Cross Station, Melbourne and the major regional towns of Bendigo, Ballarat, Geelong and Morwell.
COST
This year, our summer and first term holiday camps are free for children from families eligible for support through the Positive Start Programme. Our holiday camps run for 5 days and four overnights and all meals, accommodation and activities are included.
We also have fee paying places. Where this fee would cause financial difficulties for a family, we will reduce or waive it.
APPLICATION PROCESS
If you are the parent of a child who would like to attend one of our camps, just email us at or ring Marianna Anthony on 9046 8200. Places are limited so contact early to avoid disappointment.
We send information about our summer camps to schools and other children's organisations in November each year so that they can refer children to our programmes.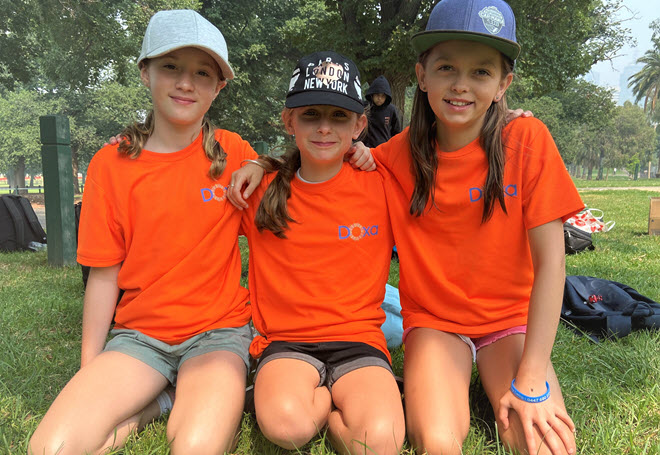 All bookings and enquiries can be made by ringing Marianna Anthony on 9046 8200
Alternatively, fill out the below form:
Or by filling out the form below
CONNECT WITH DOXA
P: 03 9046 8200
E: 
Suite 2, Ground Floor, 355 Spencer Street , West Melbourne VIC 3003