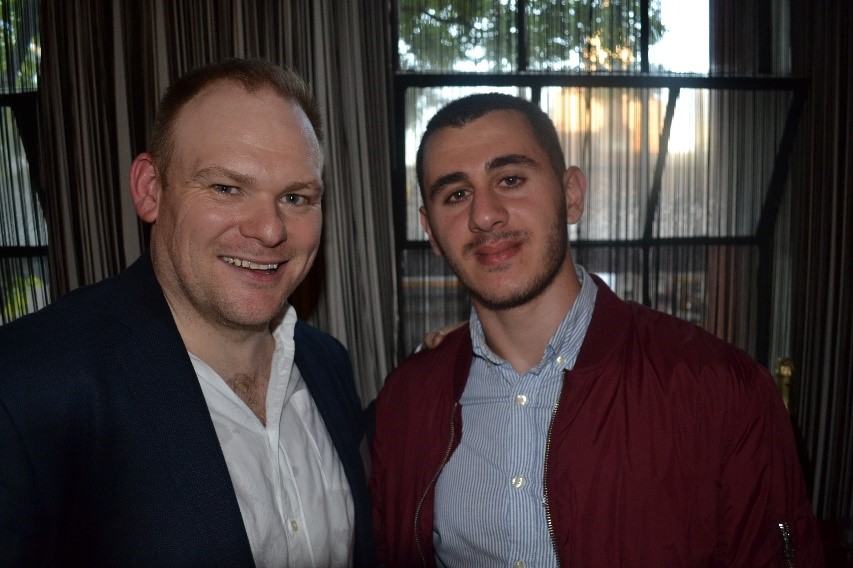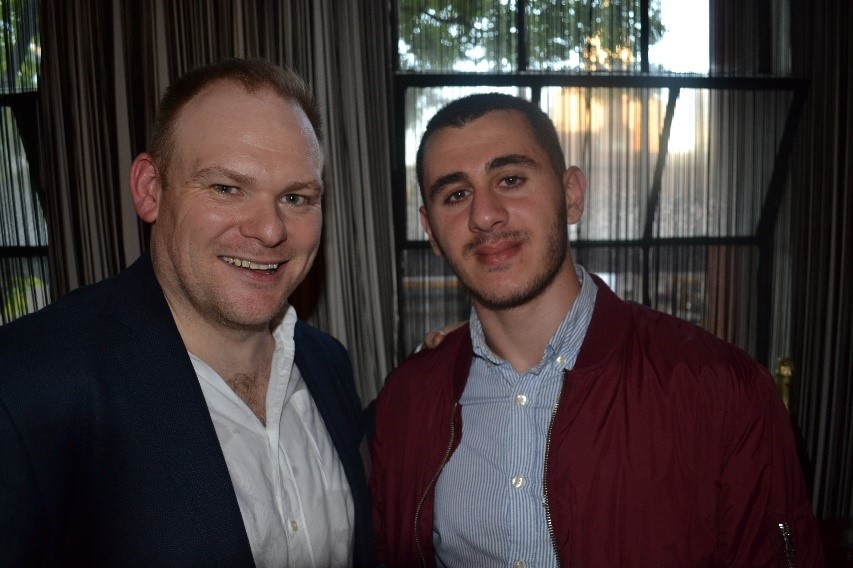 We recently hosted our annual Doxa Youth Foundation Cadetship Alumni event to provide our Alumni with the opportunity to re-connect, share experiences, network, meet current Cadets and also hear some inspiring stories of success. Our guest speaker on the night was Michael Perry, who shared how Doxa Youth Foundation changed his life and informed his passion for mentoring young people, including Rabel Kaka.
Michael Perry was a Doxa Youth Foundation Cadet in 1999. Like many of our Cadets, Michael experienced challenges growing up and the Cadetship program was an invaluable support during his three year accountancy degree. Fast forward 20 years and Michael is now working at V/Line and mentoring next generation Doxa Youth Foundation Cadet, Rabel Kaka.
Michael's story: Paying it forward for the next generation
Michael shared fond memories about the comfort he felt knowing Doxa and his sponsor company took care of barriers, including the cost of text books, tutoring for subjects he struggled in, the Malmsbury residential camps and even his first business suit fitting. What's more, Michael's mentor at his sponsor company was a Cadet Alumni too so she got it, she understood Michael and what he was going through. 
Michael credits Doxa Youth Foundation as integral to his success.  He says,
"My experience in the Doxa Youth Foundation Cadetship program has seen me through the good and the bad. I've developed resilience, teamwork and leadership skills and confidence in myself and my ability to meet challenges head on. I've never forgotten where I've come from and the opportunities I have been afforded. I am forever grateful. I began university knowing I had Doxa Youth Foundation behind me. I was nervous about the cost of text books but that was taken care of and I could just focus on my studies. I remember being fitted for my first business suit, again thanks to Doxa Youth Foundation. I received tutoring for subjects I struggled in. I was supported, made to feel special. I was being set up for success." 
Michael is now working at V/Line, leading a team and recently, he's taken on his own next generation Doxa Youth Foundation Cadet, Rabel Kaka.
Rabel's story: Escaping ISIS in Iraq to Software Engineering in Melbourne
Rabel's family left Iraq about 5 years ago due to the imminent threat from ISIS, who had raided the next-closest village to Rabel's home. Rabel came to Australia with no material possessions . As a refugee he experienced financial hardship as well as culture shock, isolation, loneliness and struggled with English during his first years in Australia. It was extremely hard to make friends and Rabel didn't feel like he belonged anywhere.
Rabel has just completed his first 8-weeks of placement at V/Line, where Michael volunteered to be his mentor. Michael shared how incredible it felt providing a Doxa Cadet with the same support he needed in his early 20s.  Rabel has brought with him fresh ideas, new perspectives and a youthful enthusiasm to learn and a willingness to challenge the status quo. Rabel says:
"The Doxa Youth Foundation Cadetship program has provided me with the opportunity of establishing a strong and supportive community of friends and mentors from different backgrounds and walks of life. Being part of the Cadetship program provided me with a priceless sense of confidence and empowerment. Having such a supportive and inspiring community around me has finally made Australia feel like home. On top of the personal support, the opportunity of applying my learning to a real-life workplace through my placement at V/Line has been invaluable. It has allowed me to understand and develop the necessary skills companies value and look for in a software engineer. This is an experience that makes me feel empowered and prepared for the future." 
Support a Cadet at your organisation in 2019
Great cadets make for great graduate employees. Cadets leave university with at least 6 months of relevant work experience, not to mention their networking skills, employability skills and professional development, so they are going to have the competitive edge over their peers. Also, what better way to recruit ready-made assets into your business? We are looking for organisations to support our 2019 Cadets and we would love to hear from you.
Many thanks to Rabel and Michael for sharing their story at the Alumni event and in this blog and to V/Line for their ongoing support. 
If you are interested in supporting a Doxa Youth Foundation Cadet at your organisation, please get in touch with our Cadetship Manager, Michael Walter: .