"Who run the world? Girls!" Doxa Cadet Michelle Tran channeled some feisty female entrepreneurial spirit when she attended the League of Extraordinary Women's "Run The World" conference last month. This event brings together a multitude of female business leaders from across a number of sectors and gives insights into their success stories. As Michelle is studying a Bachelor of Commerce & Economics at Monash University, she went along to make connections, get inspired and learn some new tips. Here's her account of the day and her top 3 takeaways…
To quote one of the most famous female divas of all time, "Who run the world? Girls."
At the League of Extraordinary Women's Conference for 2017, this answer was supported and proven by a range of brilliant female entrepreneurs. It was an event where females, and a handful of brave males, from all backgrounds and industries could share their passions for business while building a network of both professional and personal connections.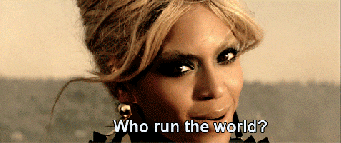 As a cadet, I was fortunate enough to be given this opportunity to attend the conference and were it not for Doxa, this would not have been made possible. So, for all those who are interested in knowing more about the league and the secrets to a successful business, here are my top three takeaways from the "Run the World" event.
Takeaway 1: "You can have it all"
Before the event, I would perceive people who were successful as these super humans who were either born geniuses or were extremely lucky to have accomplished their goals and create a name for themselves in the commercial world. To me, it was such a distant idea that I often would talk myself out of pursuing business ventures before I had even started.
At the conference, however, most of the guest speakers were women who were married and had families. They were women who had day jobs that most would consider normal. It was through hard work and determination that these women could balance building a business with raising young children and maintaining relationships with their partners, friends and family. It made me realise that I did not need any special ability to start a business and pursue my dreams, myself and everyone in the room were already more than capable of doing so already. To summarise with the wise words of Enjo CEO, Barb de Corti,
"you can have it all, but be prepared to work hard!"
Takeaway 2: Your turquoise moment
People often describe entrepreneurship as a long, hard and lonely journey. My interest has always been centred around how people have managed to stay true to their goals in the face of such adversity. All the women from the League spoke collectively about one of the most important factors to their success, which can be described as their "turquoise moment." To put into context, Spell and the Gypsy founder Elizabeth Abegg spoke about how her passion for turquoise jewels prompted her to join her sister's jewellery making business to transform it into what is now an international clothing brand.
Many of the women speak about how their intense passions allowed them to take the leap and turn their dreams into successful businesses. It was the fact that they stayed true to their ideas and believed that it was something they wanted to share with others which drove them to put in the long and hard hours to make it possible.
Takeaway 3: 5-4-3-2-1 Go!
I find that often when I come across an amazing opportunity, I hesitate. Whether it is applying for a university program or even speaking to someone who I admire, there's always a moment of pause that tends to result in nothing. It has either prolonged or prevented me from doing new things or meeting awesome people. Therefore, the most important lesson I took from the League event was how to stop this. "The moment you have an instinct to act on a goal, you must move within five seconds or your brain will stop you."
"From now on, if I ever find myself hesitating to do something that will help me reach my goal, I just count to five and act."
I have found that the fears I once had were all in my head and what I have gained has far exceeded what I was scared to lose anyway.
Thanks to Michelle Tran for sharing her experiences at the Run The World Conference. We hope you continue feeling inspired!