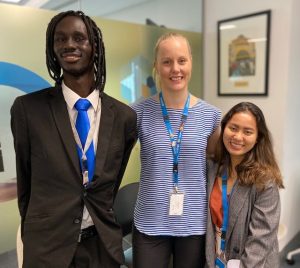 Congratulations to Ben and Rachel who recently graduated from Doxa's cadetship program (pictured here with Kate McConnell from sponsor company Metro Trains).
Ben and Rachel are both studying a Bachelor of Business (Accounting) at RMIT and recently completed their cadetships at Metro Trains, where they developed;
Invaluable work experience
Support through university
The opportunity to connect with peers and industry professionals through work placement
Professional training to assist them to find their personal greatness
Life-long associations with work colleagues, other cadets and Metro Trains staff
The Cadetship program is open to Year 12 students transitioning to university and is a three to five-year program, dependent on the length of the degree and the sponsorship model.
For more information on becoming a cadet or a sponsor organisation, please contact Doxa, we would love to hear from you!